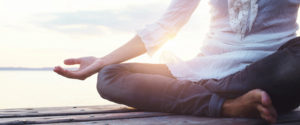 Mindfulness-Based Stress Reduction (MBSR)
Mindfulness-based stress reduction is an 8 week course based upon ancient healing practices and combines mindfulness meditation and yoga.
The practice of mindfulness is ideal for cultivating a greater awareness of the unity of the mind and body, as well as how unconscious feelings, thoughts, and behaviors can undermine physical, spiritual, and emotional health.
The mind is a known factor of stress and stress-related disorders, and meditation has been shown to positively affect a range of autonomic physiological processes, such as reducing overall emotional reactivity, lowering blood pressure, and improving quality of life. 
Benefits of MBSR
Anxiety reduction
Stress management skills
Improved immune system function
Better sleep quality
Increases ability to focus
Reduction in negative feelings of anger, depression, and tension
Decrease in physical conditions, such as chronic fatigue syndrome
Illnesses MBSR has been shown to benefit:
Chronic Pain
Heart Disease
Stress Disorders
Cancer
Personal Well-Being
Anxiety
Hypertension
Major Depression
Diabetes
Hot Flashes
Sleep Disturbances
Mood Disorders
Fibromyalgia
HIV
Gastrointestinal Disorders
Asthma